23 July 2018
Andy Roberts is Still Kicking Goals.
Andy Roberts Wears his Heart on his Sleeve and, family aside, it is not hard to pick his two great loves.
The first is signified by the early-1960's Volkswagen Samba microbus regularly parked outside his Charlestown, NSW, Gentlemen's Outfitters menswear store and the second the Newcastle Jets Football Club paraphernalia displayed inside.
Andy's Samba is almost as famous as its owner, starring in a series of television commercials for his clothing shop. The truth though is that the famous microbus is a modest part of a big family.
On a scale of one-to-Volkswagen fanatic, Andy is what you might call a super-duper-mega-enthusiast, a Volkswagen fan with an eye-wateringly enviable collection of aged, sometimes rare and always gorgeous Beetles and microbuses, a man who calls his Seaham, NSW, home 'VW HQ' and whose family can boast more Volkswagens per head of population than the entire city of Wolfsburg.
This mega-fan hosts a Volkswagen show on his one hectare property every year as a charity fundraiser. At the most recent, some 150 cars and several hundred people turned-up.
"I think I've created something unique with the charity day," he said proudly. "I understand it's now one of the biggest charity events to be held at a private home in Australia.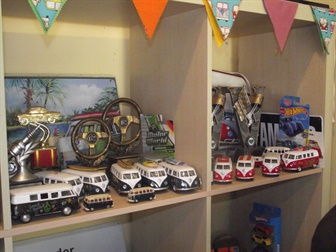 Andy admires VWs generally but loves the Beetles and Kombis particularly, which is why there are no modern cars in his collection – apart from wife Alison's current model Beetle.
"I like the classic Volkswagens, I like the marque, the different eras and I especially like the air-cooled connection. I also like the history because I enjoy a good story. There were so many Volkwagens sold here that, really, everyone grew-up with one in some way so everyone has their own Volkswagen story to tell.
As happens with so many young automotive love affairs, Andy's infatuation with the curvaceous Germans started on a busy Newcastle street as a case of love at first sight.
"I was only 18 or 19 and I saw this 1972 Beetle in a car yard on Maitland Road with a 'For Sale' sign on it," he recalled. "It stopped me in my tracks. It had a Porsche Carrera-style bodykit on it with a big rear wing and everything and I just had to have it.
Alas, it was a torrid but brief encounter, a true star-crossed love affair doomed by disapproval.
"I only owned it for one day. My parents saw it and told me to go and buy 'something sensible'. I was gutted. After I returned the VW and got my money back I bought 'something sensible' which I kept for about five years and put 100,000 or more kilometres on but it was really boring.
And after five years spent paying penance, he ditched his 'something sensible' and went back to his beloved Volkswagens to rekindle the passion.
Right now his collection of 'real' vehicles (as opposed to the many pieces of paraphernalia and a countless number of model Beetles and Kombis spread about the property) numbers nine, not including Alison's 2016 Beetle and the T6 Transporter shop van.
And there is 'Prince', a purple Porsche 911 GT3 RS sports car he describes as "a sort of a Beetle, just a lot more grown-up.
Two very large garages at VW HQ house two Samba microbuses, a 1957 23-window and a 1963 21-window, one 1961 Beetle, a 1964 'Herbie, The Love Bug' replica, a 1968 1500 example, two 1970 1500 Beetles and another 1961 model which is still waiting to be restored.
The '57 microbus spent more than two years being restored and was an award winner at the Volkswagen Nationals, its first outing post-restoration.
The latest member of the Roberts family is "Ruby" (Andy names all his cars*), a completely original, unrestored 1963 model in showroom condition and with a mere 56,350 kilometres on the clock.
"It's had two lady owners. It's the same colour and specification as the Volkswagens that went to Antarctica in 1963 and is just a month apart in age from them. She is just beautiful.
A few days after buying Ruby Andy had her detailed and serviced, fitted her with a set of whitewall tyres, drove her to a show and won a class prize. Yes, Ruby is that good.
Andy is so well-known among VW collectors that he no longer looks for cars, the cars find him. "These days, I don't find the cars anymore, the people who own the cars call me.
Often he comes across cars with their own story to tell, cars with special significance.
"Believe it or not, my 1963 Samba was restored by Michael Ryan, Hugh Jackman's personal trainer!
Andy, who recently sold two from the collection, a show-winning 1960 Samba and the first Volkswagen brought into NSW from Germany in 1951, says he is always looking to improve the collection.
The 1951 Beetle, incidentally, now resides in its own special corner at Volkswagen Group Australia's national offices in Chullora, NSW.
"I'd like to go after a first-generation Kombi that is earlier than the ones I already own, a vehicle known as a 'Barn Door Deluxe'. Or maybe a rare Hebmuller 2+2 convertible." Only 696 Hebmullers were built between 1949 and 1953 before fire destroyed the factory. Rare then, they are probably now scarcer than shark feathers.
His drive for perfection carries over from those days when all he wanted to do was play soccer for Newcastle United after seeing the team play for the first time in 1978.
He managed that and more, playing for his beloved NUFC from 1991 through until 2003, running-on as team captain from 2001. He was also named club captain and scored four career goals at the top level.
"I'm still the club record holder with 234 games. When you consider the average for a player is about 50 or 60, to play over 230 games for my home city is something I am very proud of," he said in a recent interview.
Trailing a rope of braided hair behind him in his playing days, Andy was known as 'the Ponytail Express' and was also nicknamed 'The General.
"The Newcastle Knights (rugby league team) had Paul 'The Chief' Harragon (as captain) so someone nicknamed me 'The General', the name coming from Newcastle's General Roberts Hotel.
At VW HQ the dual loves of sport and Volkswagens are happily crossing the generational divide. Andy's two sons are discovering the joys of air-cooled transportation but have eschewed soccer for basketball.
All is not lost though. His daughter is a dab hand with the round ball and, with a skilled coach on her side, has hopes of making the Matildas in the not-so-distant future.
And her interest in things Volkswagen? "It hasn't quite developed yet but we just need to give it some time . . . . .
*As mentioned in the story, Andy, his wife and children name all their cars. So meet the family.
o Samba 2 and Samba 3: the two microbuses (Samba 1 was recently sold)
o The Little Car: the 1951 split-window Beetle sold to Volkswagen Group Australia
o Mel: the 1956 oval-window Beetle
o Steven and Harris: are his two 1961 Beetles
o Ruby: the red 1963 Beetle
o Herbie: the 1964 Love Bug replica
o Abbey: the 1968 1500 Beetle with a striking resemblance to the car on the cover of the Beatles' Abbey Road album
o Bob and Clem are a pair of 1970 1500 Beetles
o Stella: is Alison's 2016 Last Edition Beetle (3 of 53 made for Australia)
o Angus, the 2016 sixth-generation limited edition Mulitivan is the Gentlemen's Outfitters work van
o Prince: "the big, fast Beetle" is a 2016 Porsche 911 GT3 RS, named for its purple paintwork